More news!  Going back to my post this morning, it really feels like Padmavat has been holding us hostage for the past 2 months.  And now, suddenly freed, there is all kinds of news popping up all over, interesting news.
Shahrukh Gets an Award
The World Economic Forum, which is a real important thing, is giving Shahrukh the Crystal Award, which is also a real important thing.  I make that definition, because remember all that tempest in a teapot when Katrina was offered the Smita Patil award?  And no one took a second to do any research and discover this was just a small charity that randomly named their award after Smita Patil and randomly picked Katrina to win it?  It was as legitimate as my award to Vidya Balan for Best Character on this blog.  I don't know why, but the Indian media/public seems strangely susceptible to this kind of story, taking any random award that might be won and turning it into a huge thing, especially if it is international.  And then, conversely, also not recognizing when awards actually are huge things.  So, what I am saying is, this is a real huge thing.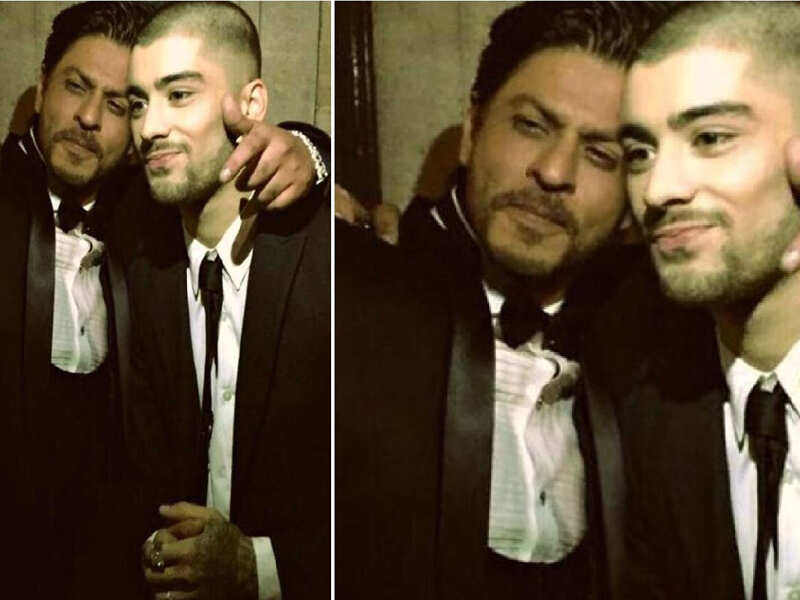 (Remember when Shahrukh met Zayn Malik and everyone reported that and forgot to report that it was because they were both at the Asian Awards, which is kind of a big deal also?)
The World Economic Forum is a group founded in and based in Sweden in 1971.  Its aim was to bring a responsible view of business and, later, politics to the world (and also to generally promote and excuse and encourage corporate globalization).  Every year, it hosts an annual conference in Davos, Switzerland.  At conferences in the past, Nelson Mandala met with the then president of South Africa, Israel and Palestine worked out part of a peace treaty, and war between Turkey and Greece was averted.  There are huge big important things that happen at public Davos panels and in private Davos meetings.
The Crystal Awards started 25 years ago, originally with the idea of recognizing artists who promoted international ties.  And later, to recognize artists who attack global problems.  Lots of super big names have been given awards in the past.  I can't find a ton of details, but I am assuming there is some big banquet during the conference, the awardees show up and everyone goes "oooooo, celebrities!" and then they are given their thing and do a tiny speech talking about how awesome globalization is, and then they fly back home.
This year, the winners are Cate Blanchett (for her work with refugees), Elton John (for his against HIV/AIDs), and Shahrukh (for his work with female acid and burn victims).  It's interesting that Shahrukh is getting this award, because if you remove everything else and just look at the WEF as one of the first bodies promoting globalization as a good thing, Shahrukh is the Indian face of globalization.  Right?  He created the image of the multi-national hero in DDLJ and the movies after it, and he also pushed Indian film abroad, branding himself as it's ambassador.  He kind of makes more sense as a winner because of that, if you want to call it his effort to promote international ties, because his charitable work really does not address global issues.
(Yep, that's a global guy)
Let us take a moment to remember what that charity work is.  Or, rather, to find out what that charity work is because Shahrukh plays it very close to the chest.  Apparently, he has something called the "Meer Foundation" ("Meer" being his father's name).  If you go to the official website, it is very nice and professional looking and explains what they do and all that, but it has no "history" or "about us" or anything.  So it looks like Shahrukh is funding this entirely out of his own pocket (therefore there is no one else to talk about in a "history" section), and does not want anyone to know (so he has been scrubbed from the website himself).  Anyway, the Meer Foundation specializes in female burn victims.  Which of course just makes Shahrukh endlessly sexier.  Oh, and he has also done all kinds of things to support child cancer patients, not through the foundation, funding hospitals and housing and so on.
(Doesn't he look sensitive and kind and caring?)
The child cancer patient, sure, that's kind of a global concern.  Children have cancer everywhere, and taking care of their particular needs is difficult.  But the female burn victims, that is pretty unique to India.  For what ever reason, fire and acid have become the weapon of choice in domestic violence in India.  So when Shahrukh is helping "burn victims", it's not some poor lady whose house caught on fire (which could happen anywhere), it's a woman whose husband or mother-in-law or brother-in-law or father or mother or brother tried to kill them by setting them on fire.  Or, if not kill them, scar them so permanently that they would feel they had no other place to go, no escape in the wider world.  Acid, that would be less likely to be within the household, maybe a boy who felt he had been turned down or something like that, a drive by attack by just throwing a bottle in her face.  And again, the result would be stigmatization, misery, a feeling that your value has been taken away from you, often suicide.
This is all a terrible thing, and I am thrilled to learn that Shahrukh is dedicating his foundation to treating these women, and also giving them the support they need to rebuild their lives.  And part of my being thrilled to learn this about him is that this is all, really really, an India thing not a global thing.  Acid attacks occur in a variety of places, but not everywhere.  And the "kitchen fire" phenomenon is pretty specific to India.  Not that domestic violence is specific to India, just using fire to do it.  So Shahrukh has dedicated his foundation to helping the struggling women of India, not the world, but the people from his homeland and his most loyal and dedicated fans.  But it kind of doesn't qualify him for the Crystal Award from a group that is promoting global ties and attacking global problems.
On the meta-consideration of Shahrukh's star persona, so far this isn't that unlike what he has done before.  He has gotten charitable awards, tweeted a nice "thank you" when the award was announced and shown up for the ceremony, and then never promoted it about himself or tried to make it a big deal.  But I do kind of wonder, is this a new side to the Shahrukh persona?  Has be been worn down by all the hate into fighting back?  He's already tweeting in Hindi, which is weird, and now there is this odd little recognition of his charity.  He could be trying to pull a Being Human.  But I hope not, because that would in some ways be giving up, acknowledging that people don't just love him for himself.
Oh, and finally, I already looked it up and Elton John is married with kids, so Shahrukh can't set him up with Karan.  But maybe Elton knows someone.
(Okay, his family is adorable, he can stay with them instead of marrying Karan)
Shraddha Ruins Another Movie (or maybe not!)
Well, Shraddha just signed another film.  A horror-comedy with Rajkummar Rao, produced by my beloved Raj & DK (directors of A Gentleman).  But wait, stop the mourning and rending of garments!  I think there might be hope this time.
Not hope that Shraddha will get fired, they've already announced her and started filming.  Or hope that she will suddenly learn how to act, I think we can all agree that ship has sailed.  No, there is hope that she won't ruin the movie.
It's a horror-comedy, right?  Which probably means it's mostly a boy thing with the heroine being the straight woman, or the damsel in distress.  And Rajkummar Rao is the hero, which indicates that they wanted to go hard on the talent and acting ability for that role.  So maybe this is all working out!  Maybe Shraddha just has to stand there and scream and look pretty (she should be able to handle that, right?), and Rajkummar Rao does absolutely everything else.  Don't despair!
Most of all, remember that it is produced by the men who made Sidharth into an entertaining viable leading man in A Gentleman.  Give them pretty and plank-like, and they will give you back A Star.  Or at least, someone it isn't physically painful to watch onscreen.
(This was physically painful to watch)
Salman's Buck Doesn't Stop
Years and years and years ago, Salman and Saif and possibly Tabu and Karisma went out hunting and illegally shot a Black Buck in Rajasthan.  This is A Thing there, there is a religious community called the Bishnoi who revere the Black Buck (an animal that is mentioned in several Hindu scriptures and has always had an important place in Indian culture).  And there was also a long tradition of hunting the Black Buck, it is something many tourists do, and there are guides in the area who specialize in helping you get into sanctuary areas and finding the bucks and so on.
Almost certainly, Salman and a group who were in Rajasthan filming Hum Saath Saath Hain went into one of those areas to go hunting.  They were spotted by Bishnois who watch the road for just this exact thing and followed and eventually tracked down and arrested.  But, the other part of the story, is that the Bishnois are a voting block.  The idea of making Salman an example, using his publicity to win over the Bishnois voters to your side, that definitely drove a large part of this whole thing.  Salman has been in and out of court over this, even jailed for a while, for almost 20 years now.  If he were less famous, he would have easily settled the matter with a little light bribery and settlements.  If he weren't famous or rich, he would have gone to jail and be done with his sentence by now.  Or else no one would have even prosecuted him, I'm not sure whether or not the local guide was ever prosecuted.
(Yes, this incredibly saccharine film set off massive courtroom drama and now a death threat)
Anyway, latest touch of people using Salman's fame to make themselves look good, a local gangster Lawrence Bishnoi has now threatened his life, saying he will kill him in Jodhpur.  Salman isn't in Jodhpur right now, he is in Bombay, minding his own business, trying to finish filming Race 3.  But all of a sudden he had to stop doing that because the police burst in and hustled him away.  So in all of this, the Bishnoi community has publicity again, gangster Lawrence Bishnoi has publicity, the Bombay police have publicity (for being so protective and aggressive), and poor Salman is just being dragged along for the ride.  Literally in this case, since he was planning to finish shooting for the day and the police yanked him out and sent him home.
Vidya as Indira?
Finally, the news making the rounds about Vidya, is that Sagarika Ghose tweeted she sold the rights to her Indira biopic to Siddharth Roy Kapoor's film company.  Vidya was tagged in the tweet as well, whether because she is Siddharth's wife or because she will be starring in a biopic on Indira, not clear.  But seems likely that she would be starring, just because she's right there across the dining room table from Siddharth, why not cast her?  And, of course, she would be great in the role.
Bigger story: FINALLY a decent Indira book for me to read!  I've been looking and looking and LOOKING!!!!  The only things available at my library last I checked were a bunch of "oooo, a female Prime Minister!  She is so awesome and perfect and wonderful" books written by western authors who went with a simple Female=Progressive idea.  Or else a bunch of really really dry books that went through only her public actions.  Which I am against in general because I don't think history should be limited in that way, but in the case of Indira, the personal WAS the public, and vice versa, you really cannot separate them.
So, here's the book: https://www.amazon.com/Indira-India-Powerful-Prime-Minister/dp/9386228343
Let us all read it and learn about Indira.  And then go buy another copy of my book and learn about Hindi film all over again: https://www.amazon.com/Dont-Call-Bollywood-Introduction-Universe/dp/1944354069/ref=sr_1_1?s=books&ie=UTF8&qid=1515707527&sr=1-1&keywords=dont+call+it+bollywood