We discovered last week that Aditya Chopra doesn't actually do "sexy" well. But, in contrast, I think Karan really REALLY does. Question is, which is his best sexiest pairing?
Shahrukh and Kajol in Kuch Kuch Hota Hai
The Gazebo scene! The unspoken longing, the mature hesitant moves towards romance, super powerful.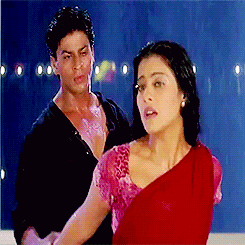 Shahrukh and Rani in Kuch Kuch Hota Hai
The bedroom scene! The conflict of different personality types, her quiet and withdrawn and him outgoing and pursuing, the excitement of going all in on first love.
Shahrukh and Kajol in Kabhi Khushi Kabhi Gham
The bangles scene! His enjoyment of her naivety. The maturity of their married relationship with her as the sexual aggressor.
Hrithik and Kareena in K3G
The Soniya dance! The young fresh energy of it!
Shahrukh and Rani in KANK
The actual sex scene! The torment of being around someone forbidden. The slowly growing desire for physical intimacy.
Varun and Sid in Student of the Year
The locker room scenes! The wrestling! Sid carrying Varun home after a long night!
I saw SRKajol in KKHH are still the sexiest. FIGHT ME!!!!