I don't mean photos of sandwiches (that would be this TGIF), but rather photos of 3 people in which they make a kind of sandwich image.  Should make a nice change from the one-shot images I usually use.
First, our most famous threesome, Shahrukh in a Gauri-Karan sandwich!
This is such a random sandwich!  The Arjun-Shahrukh bread, that is expected and usual.  But Lady Gaga in the middle?  So strange!
Now this is a very tight sandwich.  A panini kind of sandwich, that has been molded together.  Rani and Shahrukh and Madhuri are all melted into one.
Now this one is very loose and the ingredients are kind of slipping and sliding.  I like how Deepika is like "yeah, not so close" and Madhuri is all "come to me over here!"
Speaking of Madhuri, she got to be the meat in a fair number of sandwiches.  For instance, between Salman and Shahrukh.
And between Sanjay and Salman, giving Salman's shirt a very doubtful look (which frankly, it deserves.  But then so does Sanjay's, I don't know why Sanjay gets off scot-free and Salman doesn't)
Oh, and this is my favorite!  Madhuri and Salman forming the bread around a Salman portrait meat.  So, I guess like a fake meat sandwich in which the main ingredient of the meat is the same as the main ingredients of the bread.
Salman has A LOT of sandwich photos.  Mostly with family, because he is just that kind of a loving guy.  Like this, in which he is smashed between his two mothers.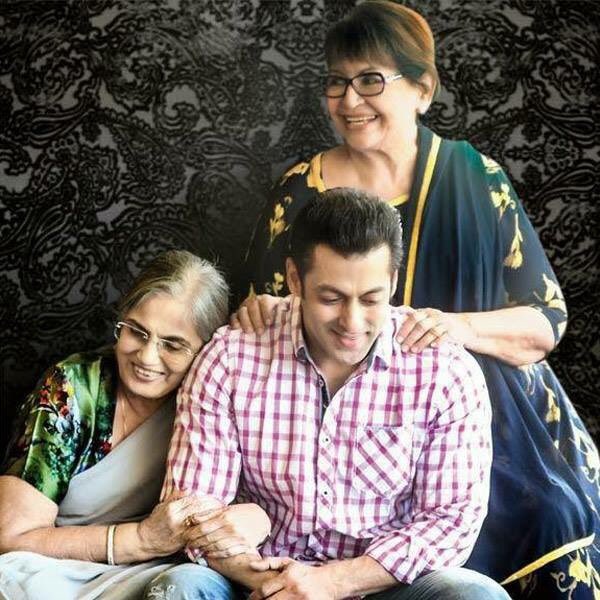 Or this, in which he is once again between two family members, just not technically his family members.  That is, sisters Kareena and Karisma who are not actually his sisters (although it feels like he thinks of them that way)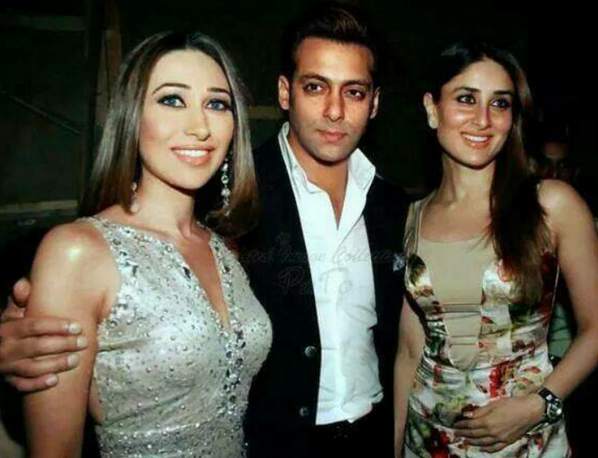 Or, my favorite, this one in which he is the bread in a brotherly sandwich along with Shahrukh around his baby sister Arpita the night before her wedding.
Speaking of baby sisters, how cute is this photo of Ajay with his wife Kajol and her baby sister Tanisha???  Back before Tanisha turned reality TV star, which was an odd thing.
Men hanging out with the women in their life is always a good look.  Like Aamir with his two most important women, wife Kiran and daughter Ira.  And also a stormtrooper.  For whatever reason.
Okay, I can't resist this picture!  The adorable little Junaid and Ira (especially Ira, dwarfed by her popcorn) combined with Aamir in his Mangal Panday look, it is just surreally amusing to me!
Speaking of father-child images, super cute seeing Dharmendra with his boys Sunny and Bobby here.
Here's a little mix and match of child-parent.  Mother and daughter Shweta and Navya Naveli on either side of Karan.
This one kills me, Sonam all wrapped up with her cousins, Ranveer on one side and Arjun on the other.
I feel like we need one more "hot men" sandwich.  Check out Kareena between besuited Arjun and Shahrukh!
Or how about all hot men?  Shahrukh, Manish, and Karan.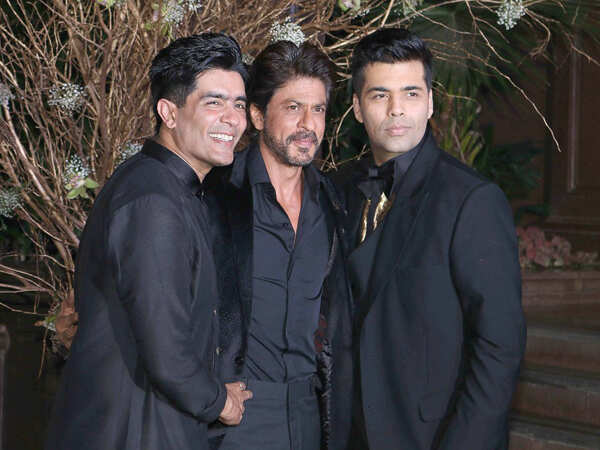 Old school style, Raj and Dilip and Dev.  Dilip looks hottest, at least in this one photo, right?
I've been doing all candid photos so far, but I can't resist this very memorable image that always confused me.  It's clearly promoting a secret love affair between Lara and Priyanka behind Akshay's back, right?  And yet, apparently, that is not the plot of the movie at all!
And finally, breaking all my rules!  Including a video!  Because you HAVE to watch Vidya dancing with Shahrukh and Hugh Jackman!
Now, questions!!!  For our intellectual debate.
Out of all of these photos, which would you most like to replace the meat of the sandwich with yourself?  For me, this one!  Sonam just looks so safe and wrapped up in love.
Out of all the photos, which would you most like to replace one of the breads with yourself?  For me, this one.  Ajay seems like he gives a really good hug!
And a simple one, which is your favorite photo?  This one for me, hands down.  It's just so sweet!