In our discussion on this year's FilmFare post, we ended up linking back to previous years for reference, which made me think of a TGIF theme!  Why not put up photos from previous years and have people compete with themselves? (index of all TGIF posts here)
First, Madhuri!
Madhuri 2016.  I think her face looks gorgeous, but the sari somehow isn't quite right.  I think maybe a fuller skirt would be better.
Madhuri 2014.  The skirt is better, the face is still amazing, but now I don't like the color or the fit of the bodice quite as much.  Dr. Nene is, of course, always appropriate.
Madhuri 2012.  Call me crazy, I may like this best of all!  Interesting color, good fit, and Dr. Nene is extra smiley!  WINNER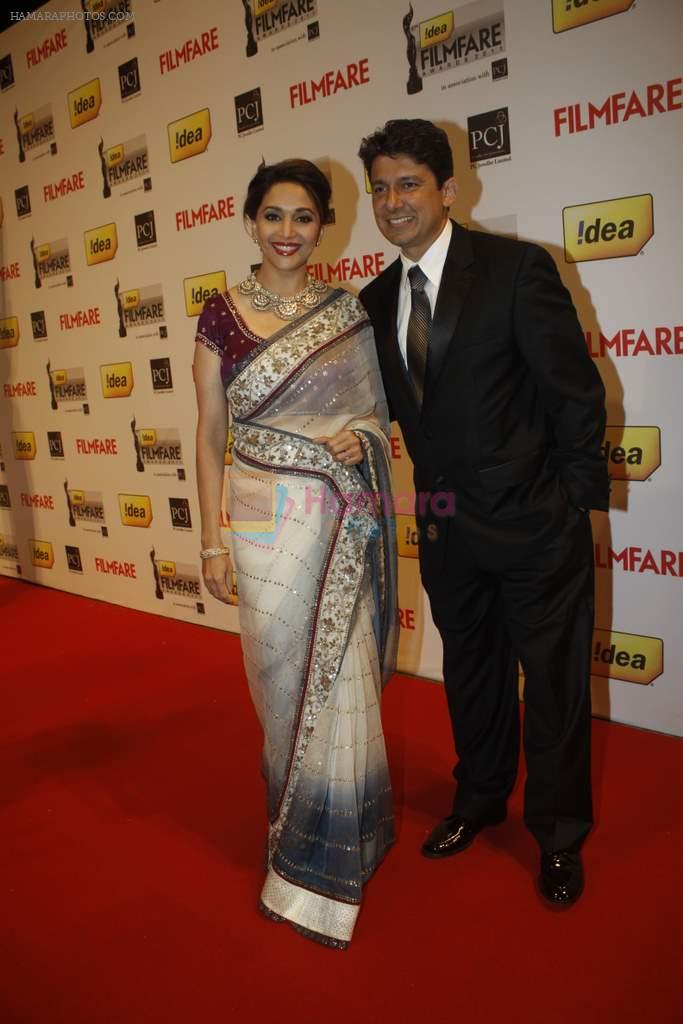 My next favorite fashion wearer, Dia Mirza!  Who, somehow, always fails at FilmFare.  At least, I think so.
Dia 2013.  No!  Too ambitious.  She was going for a sort of modern sari look, leggings and a leotard style top under the wrap with no skirt.  And it ends up just looking messy, right?  Maybe if she had done her hair up and put on more jewelry it might have worked better.  Big gold bracelets would be good.
Dia 2014 (Sahil Sangha isn't nearly as good arm candy as Dr. Nene).  Again, I like the concept, and the execution is a little better, but it still isn't just right somehow.  Maybe it's just that her sari needs a better drape?  It looks confused, and we can't admire the lining.  But the colors are bold, and the jewelry is good, and so I say WINNER
Dia 2012.  An Anarkali!  Very cool.  I think this is my favorite so far, but it's still not perfect.  Or maybe it is just her posture, I have this urge to tell her to stand up STRAIGHT.
Sonam!  My other fashionista, more famous for what she wears than what she does.  And also tends to fail at FilmFare.  But not always!
Sonam 2017. Ambitious idea, perfect fit and posture and all, but can that rescue the essential ugliness of sheer?
FilmFare 2015.  I think here execution and fit failed, along with the original concept.
FilmFare 2016.  Perhaps the best of the bunch!  Not that imaginative or exciting, but there is nothing fundamentally wrong with it., yes, I am saying it, WINNER
Now that we've done the young folks, moving on to the big guns, Rekha!  Who has been coming to FilmFare since forever, whether or not she is nominated.
Rekha, 2016.  A reliable sari, I like the subtle green tones.  And I also like Rekha's confidence in wearing loose hair even as an older woman.  And her big accessories, perfectly color matched to the sari, all of this is perfection.
FilmFare 2015.  Orange this year, still wonderful, except I think her accessories are a little off.  That necklace is just too long, and the earrings dangle slightly too far, getting mixed up with the necklace instead of each having their own moment.  And the bag very very slightly clashes.
FilmFare 2015.  This may be my favorite.  I love the warm yellow color, something slightly different than we usually see with saris, but still with gold undertones that pick up the necklace. WINNER
And now Shahrukh!  I am trying to give us a little Shahrukh content, but in a grown up way.  And this is legit, if you are talking FilmFare, I think he is the most regular and fashionable attendee.
Shahrukh 2015.  A basic blue suit.  Nothing wrong with it, but nothing spectacularly right.  Also, I think his pants might be a hair too long.  And he should have a pocket square to match his tie. But still, considering the other options, WINNER
Shahrukh 2016.  Better, I think.  A tux makes more of a statement than a suit.  But I hate hate hate that contrasting color around his wrists.
Shahrukh 2012.  Well, this is a disaster!  From all angles.  It's not appropriate for the event, not nearly dressy enough (not to mention that it looks like he forgot to wash his hair), and it doesn't seem to fit right (arms too long) and he doesn't seem to be wearing it right, the shirt should be more buttoned and his hands shouldn't be in his pockets.  Disaster!!!!
Okay, one more!  Since he is begging us to talk about his clothes, let's look at Ranveer!
Ranveer 2014.  On anyone else, I would say this is too much.  But on Ranveer, it is discrete.  And he carries it off like that, casual, like we shouldn't even bother noticing what he is wearing.  But the shoes are still stupid, that I will stick with even if he carries off the jacket.
Ranveer 2016.  For me personally, this is the best he has ever looked at FilmFare, or maybe anywhere.  Stylish and interesting but not over the top.  WINNER
Ranveer 2018.  And of course this year.  On Ranveer!  I love the idea, it's just sort of too much for me.  If it were on someone like Varun Dhawan or Rajkummar Rao, who normally dresses normally, I would wholeheartedly love it.  But on Ranveer, somehow it feels like he is more focused on topping himself than on actually liking the outfit.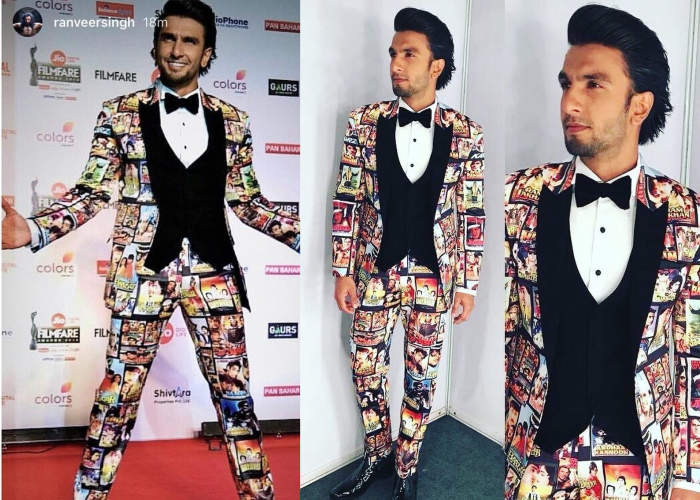 Bonus photo:
I just think this is cute.  And Rekha looks amazing, and Shahrukh looks amazingly 90s.
Questions:
Which outfit wins for you from each individual contestant? (you know my answer form what I wrote above)
Which outfit wins overall? (you can do ties, or a male and female category) 
I think I have to give it to Rekha in yellow
And Ranveer in geometric stripes!