I have 20 minutes before the kids get here, so I am going to write a news report post real quick, and then dig a croquet set out of the attic so they can hit each other with mallets.  Or possibly actually play croquet, but that seems unlikely.
Imraan Has a New "Job"
Oh Imraan!  I am sure actually working takes time away from his busy schedule of picking out ironic t-shirts and putting gel in his hair, so it is nice that he is trying.  Tepidly.  After 3 years of "paternity leave" (again, I think paternity leave is super important and a wonderful idea, but I also think leave for the non-primary caregiver should be 6 months AT THE MOST, and 3 years is insane considering his wife is also not working, and their child has no major health issues), Imraan was vaguely possibly considered working in his uncle's Mahabharata.  And now he is maybe possibly thinking about directing.  Based on having done one ad film for Dharma. (full story here)
And I think the only way to convey how I feel about this is to tell a story of corruption from my home state.  When I was a teenager, there was one of our occasional scandal stories, patronage jobs given by an elected official.  And the smoking gun was an memo saying "So-and-so is sending over this guy and this guy and this guy, you have to give them jobs.  And also an assortment of the usual bozos".  Those lucky "bozos" got to keep their jobs and not be indited because they were so unimportant that they didn't even get their names listed out in the corruption memo.  Anyway, that's how I feel about Imraan at this point.  He's one of those usual bozos, you have to accept him and give him some kind of low level job because Aamir sent him over and you need to stay in good with Aamir.  Notice Dharma isn't giving him another film, or even a high profile directing job, but they can dig up some sort of ad film for him, just to keep him busy.
(Cute kid, but does she really need two non-working parents totally focused on her?)
Priyanka is Shoehorned into Another Story
I didn't even realize that PC was forcing herself into the royal wedding storyline in a similar way until I ran across discussion on another non-Desi website.  The regular commentators were saying "it seems a bit odd, but I guess if she is asked the questions, she has to answer", and then a few of them were saying "yeah, but, surely there is some way she could avoid the question?  No one else seems to be talking like this", and then there was one self-identified desi who said "PC is always in control of her public image, if this is happening, it is on purpose".
Now that PC is back in the India zone for the first time since I've been doing close coverage of news, I am FASCINATED by how good she is at this!  This story line is officially about Disha Patani who was injured doing a stunt for Bharat.  So it's also a little bit of a publicity for Bharat.  And yet, here is PC. (here is the story)
The official story is your usually injury onset spin, turn lemons into lemonade by making it a story about how exciting and difficult and different the stunts will be in this film.  Apparently Disha is playing a circus performer (now I am getting a bit of a Mere Naam Joker vibe) and in her dedication to learning her acrobat stunts, she sprained her knees while training.  With international trainers (always an exciting buzz word in film promotions), who are helping her prepare for the spectacular circus sequence that will start the shoot.  Fine, whatever, I've heard this story before.  The public always likes evidence that movie stars are actually working, not just going around looking pretty in costumes.
The bit that distracted me was thrown randomly into the middle of the article:
It was also being said that international trainers from abroad were invited to India to help Disha Patani train for her role in Bharat. While she will be sharing screen space with Salman Khan for the first time in this Ali Abbas Zafar directorial, it is yet to be seen if she will have scenes with the leading lady of the film Priyanka Chopra.
Whoa, what???  Where did Priyanka come from?  Sure, remind people that Salman Khan is in the movie with her, it's the only reason we care about the film.  But what an awkward way to insert Priyanka into the storyline!  It's not like there is any real reason for us to care if she shares scenes with PC, they don't have any sort of real world connection, so why bring that up?  Besides Priyanka's PR team being ON IT and making sure that any story which is even vaguely related to her will have her name stuck in just to remind us that she exists.
(PC stood next to Tiger, Disha's boyfriend, at a press conference once. Is that supposed to make us care about whether or not the actresses will interact?)
Manikarnika Tries Desperate Tactic to Remain Relevant
Well, Kangana was forbidden from promoting the film (supposedly) because she can't control herself in interviews.  And the shooting was delayed and delayed because it didn't look as good as they wanted or something.  And now the release date has been pushed almost a year from the original release. (story here)
This isn't just a Kangana issue, because she has Mental Hai Kya going still and I'm not hearing anything super nutty about her on that set (but on the other hand, it is also a small enough film that they could easily hide or work around the nutty).  I'm thinking it's a "whole film is a problem" issue.  That's what it usually is when stuff is delayed and delayed and delayed.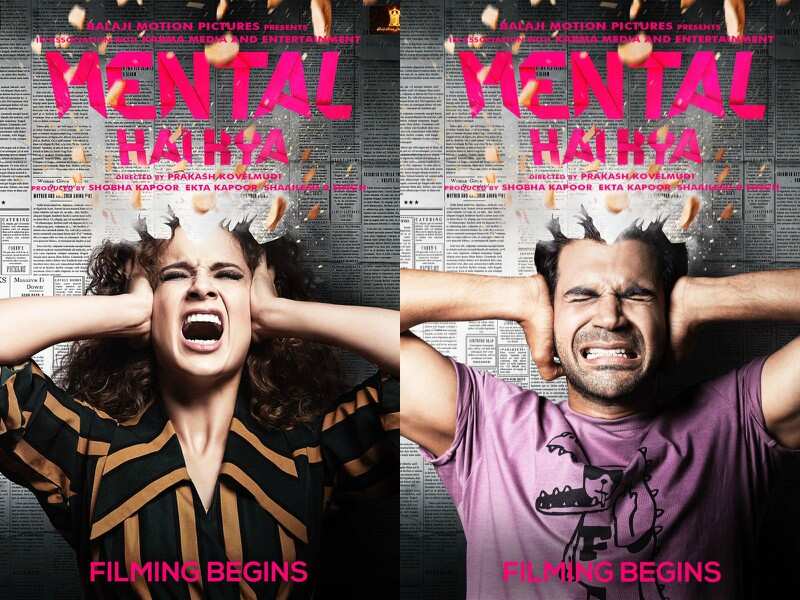 (Also, they totally picked the title to work will with Kangana's public persona, right?)
And now the new release date REALLY looks like they are desperate.  Manikarnika is now releasing on Republic Day 2019.  Opposite Hrithik's Super 30.  Which means both that they can blame any failure of the film on evil Hrithik and his team taking up screens and publicity and so on, and that they can get the little bump from the Hrithik-Kangana news stories.  Maybe let Kangana loose to promote after all, because she will have an excuse for potential Hrithik ramblings.