Snow isn't exactly the magical wonderment for me that it is for people in Indian movies.  It's been a part of my life for 4 months out of the year (at least) as long I can remember.  But even so, there is something about the first snowfall of the year that is still kind of magic.  Anyway, men in snow!  Let's look at them!
Starting with Shahrukh!  And the cute cute cute snow photos when he wrote his kids' names in the snow.
And the cute cute cute snow photo when he is just looking intrigued and adorable.
And the happy photo when he is just happy!
Sexy and obsessed and (probably) very very cold.
Surprised and with his modesty affronted!!!!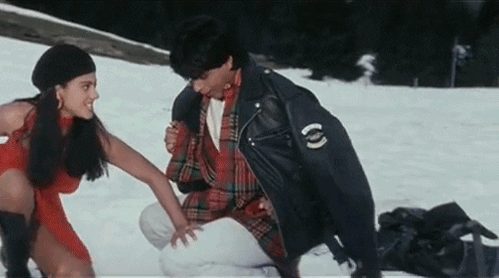 Okay, now that I am fulfilled your Shahrukh urges, moving on!  DOG!!!!  And Prithviraj.  And DOG!!!!
OMG, he's hugging the dog!!!!  And they have matching outfits!!!!
No other southerner can possibly compare to that, here's a boring snow scene with Dulquer and Nithya Menon.  I love Nithya, but she's no DOG.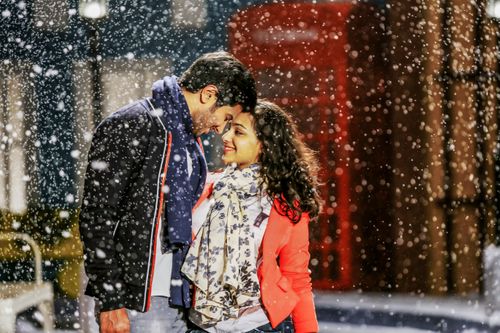 At least Vinod Khanna knows how to dress for the weather!  Possibly not for anything else (a huge blingy swastika?  A hipster fedora?  Faux fur and faux leather coat?  Which if these items would you most like to remove, if you could only remove one?)
SO MUCH BETTER!!!  Fitted sweater, nice "slacks", no hat or gloves or coat so he is probably freezing, but he looks SO GOOD.
Amitabh, also freezing.  Thank goodness he has his heroine and his massive 70s hair to warm him up.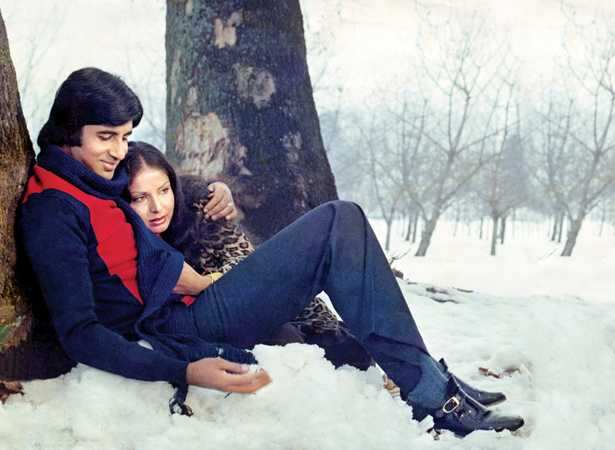 Ooo, Amitji in fur!  Dashing!  Also, snow as a background for a dead relationship and a cold uncomfortable conversation.  All just seems very unpleasant and almost ruins snow for me (thanks Yashji!)
Ah!  Fun times and happiness again!  And Rishi looks GREAT in snow gear!!!  Sridevi looks great too, but then she always does.
Speaking of fun times and happiness, is this the most 70s thing ever or what?  Strange layers, big lapels, washed out color tone, and so on and so on.  Although Rishi's hair might be slightly better than it is above.
Do you think 40 years from now we will look at this and think "oh God, that's just so 2010s I can't stand it!  Look at his dopey vest!"?
Terrible terrible movie.  Pretty Pretty Prince hero!  There are people in the comments who like Aditya, right?
Oooo!  Look at him striding around, all gifable!
So far, all of these have been from films.  But you know who looks great in snow candids?  Hrithik!  Snow, children, sunglasses, it's all good with him.
And look what a good Dad he is!  Those kids are dressed completely appropriately, AND have both gloves on in every photo!  Most difficult part of snowtime parenting, keeping the gloves ON.  And unlost.  And unwet.
And ski helmets!  And ski visors!  How does this family make all the "dorky" safety gear style look cool?
Is it Hrithik's vacation beard?  Is it scattering coolness over them all?  I think maybe.
For comparison, notice how uncool he appears without a beard.  Also, notice than Main Prem Ki Diwani Hoon continues to be an INSANE movie.
Mujshe Dosti Karoge, less insane, but I'm still missing the beard.
On the other hand, Fanaa is a gorgeous gorgeous movie and Yash Raj knows just how to use snow.  Aamir and Kajol both look amazing here.
Or maybe it's just Aamir who knows how to use snow!  It looks pretty great in Dhoom 3 too.  And realistic!  Heck, if I weren't leaving town, I might drive around trying to find that alley in Chicago and dance in it with all the other "surprised by cold weather and still in inappropriate clothing" Chicagoans.
And finally, the snow ki baap, Shammi Kapoor!!!!!!!  From the iconic "Yahoo" number in Junglee in Kashmir.  Where he just ran around in the snow for 5 minutes with the cameraman jogging behind him and trying to catch up.
Look at him, just luxuriating in it!
Please, please come join him!  He wants you!  He needs you!  The snow wants you!
Well of course Saira Banu gave in.  Who wouldn't?  And a moment for Saira's excellent scarf work, I aspire to such class once it gets cold enough for me to go full scarf.
BONUS: To warm you up after all that snow, Jackie Shroff would like to make you some nice hot chocolate!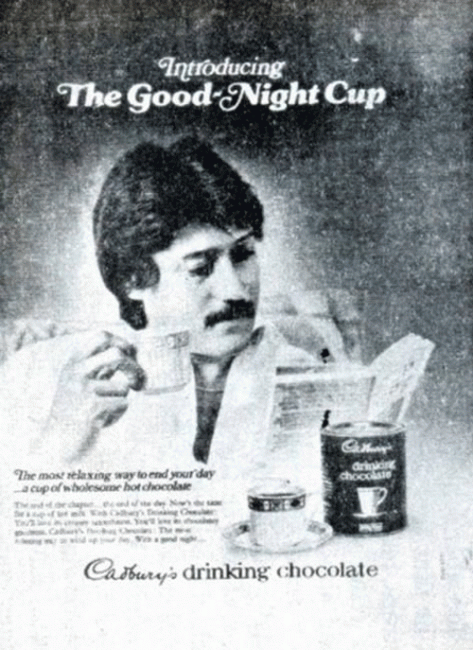 Now, questions:
Who would you rather play in the snow with?
Shammi, no doubt.  He would make anything fun!  Runner up, Hrithik.  Because apparently he knows all the safety rules and is very good at enforcing them.
Who would you rather watch playing in the snow while you are inside with hot chocolate?
Shahrukh.  I don't want to go out and play with him necessarily, but he seems able to entertain himself for hours and I would love to watch that.
Whose clothes would you borrow if you suddenly needed winter weather gear?
Amitabh's fur coat.  Definitely.  Makes a style statement, and would be very very warm.  Plus, I am tall, so I think it would fit me.
Who would you ask to come inside and have hot chocolate with you?
Jackie.  Duh.  Too old to enjoy that outside playtime, and mature enough to know how to make really really good hot chocolate.